• CONSERVATION • EARTH DAY • gardening • PLANET • PLANT A TREE • plastic water bottle • PRESERVATION • recreational vehicle • RECYCLE REUSE REDUCE • rv life • RV LIFESTYLE • rving • water • water filtration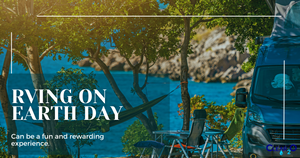 Earth Day is a global event celebrated all over 192 countries.  Inspire everyone to take action and live a more eco-friendly life this Earth Day and every day.
---
• ADVENTURE • best drinking water • camping • clean water • drinking water • emergency preparation • hiking • outdoors • purification • purifier • reduces contaminants • removes bacteria • safe drinking water • scouting • trails • water filtration
Staying hydrated is one of the most important parts of any physical activity.  It's essential to follow smart hydration practices. Our body uses water to help us regulate body temperature, aid in our digestion, deliver oxygen all over the body, protect and cushion joints, and flush out unwanted toxins from the body.  Water intake varies widely by individual, so you need to know your own hydration needs. Sometimes we might encounter problems while hiking and one of them is dehydration. Avoiding dehydration is crucial, especially when backpacking the back country and other dry areas without access to any water. Dehydration...
---
• ADVENTURE • campgrounds • camping • clean water • drinking water • health • outdoors • recreational vehicle • rv living • rving • travel • water filtration
Whether you're a frequent RVer or the most inexperienced novice, it's likely you've heard the term "boondocking." You may have even done it, out of desire or necessity. Whatever the reason, it's a fact of RV travel and one that every RVer should understand. Boondocking is a term used to describe RVing without being connected to water, electric, or sewer. Because you're not connected to any services it's also called "dry camping." Other terms you might see refer to boondocking are free camping and wild camping. Essentially, there are three different types of boondocking : The Overnight Stay: This form...
---
• dirt • filtration system • garden • gardening • health • hydroponics • koi pond • organic gardening • planting • safe drinking water • soil • water filtration
The social distancing we've all been forced to practice lately has made us find alternate activities to fill up our free time – and we've got a lot of it to fill. Television watching, always a popular pastime, has risen dramatically. Ratings for news programs in particular are off the charts (CNN's daytime viewership during the week of  March 16 was up 132% over the same week last year; Fox News Channel saw a 77% jump). What's more, streaming services like Netflix have provided consumers with a wide range of on-demand viewing to suit nearly every taste. More people are...
---
• best drinking water • bottles • drinking water • plastic container • plastic water bottle • water • water filtration
At CLEAR2O®, we know that RVers appreciate the value of pure, clean water – whether it's for cooking, cleaning, rinsing or, especially, drinking. They know that campgrounds are notorious for having poor-quality water, filled with sediment, contaminants, plastics, and other sorts of undesirable items. As RV Life describes it in an article from June 2017, "You wouldn't take a sip out of your RV sewer hose, but connecting to some campground water supply lines could be just as disgusting and dangerous to your health." And while the water flowing in the streams and rivers of the backcountry may look pure,...