• CONSERVATION • EARTH DAY • gardening • PLANET • PLANT A TREE • plastic water bottle • PRESERVATION • recreational vehicle • RECYCLE REUSE REDUCE • rv life • RV LIFESTYLE • rving • water • water filtration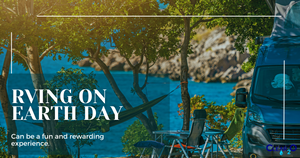 Earth Day is a global event celebrated all over 192 countries.  Inspire everyone to take action and live a more eco-friendly life this Earth Day and every day.
---
• dirt • filtration system • garden • gardening • health • hydroponics • koi pond • organic gardening • planting • safe drinking water • soil • water filtration
The social distancing we've all been forced to practice lately has made us find alternate activities to fill up our free time – and we've got a lot of it to fill. Television watching, always a popular pastime, has risen dramatically. Ratings for news programs in particular are off the charts (CNN's daytime viewership during the week of  March 16 was up 132% over the same week last year; Fox News Channel saw a 77% jump). What's more, streaming services like Netflix have provided consumers with a wide range of on-demand viewing to suit nearly every taste. More people are...