• ADVENTURE • best tasting water • campgrounds • camping • drinking water • filtered water • filtration system • outdoors • RV Basics • rv beginners • rv life • RV LIFESTYLE • rv living • RV TIPS • rving with pets
The recent uptick in RV sales and rentals may have you asking yourself whether you'd like to join in on the fun. If you do, then welcome! As a "newbie," you'll soon start to discover the enjoyment, freedom, and camaraderie inherent in RVing. But before you can get there, there are many things you need to know. Understanding the various types of RVs is certainly at the top of the list. Here is an overview of your RV choices; it's extremely basic and you'll need to do more research, but it's a good place to start.  Making the decision of...
---
• ANTIFREEZE • PREPARATION • rv life • rv living • RV TIPS • WEATHER • WINTER • WINTERIZING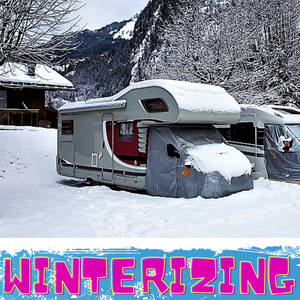 We know that the weather can often change at the drop of a hat, but this is ridiculous. A weather system that has dropped temperatures as much as 60 degrees in 24 hours is bringing powerful winds to Utah and heavy snow to parts of Colorado, Montana and Wyoming. While this is an extremely infrequent occurrence, it's a stark reminder that winter is ready to pounce. For some RVers, that means RV season is coming to a close. Not all RVers, of course. For the year-rounders, the snowbirds, and the winter lovers, it may just be starting. But for a...